Happy Friday! We would love to share an EC Los Angeles Student Testimonial!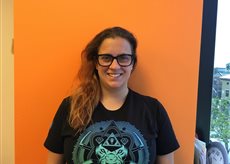 Name: Alessia Preite
Nationality: Switzerland
Why did you choose to study with EC?
I heard a lot of good things about EC and that the teachers are pretty cool an as soon as I got here it was like that.
What do you like most about EC teachers?
If you have a problem or if you want to have something explained better you can just ask and they always help you. And the teachers are cool.
What will be your most unforgettable memory of EC?
The fact that I was able to meet a lot of different people and have made a lot of special and important friends from all over the world.
Would you recommend EC to a friend? Why?
Yes I would recommend EC to a friend because I was able to improve my English with my friends and with my host family.
Looking for a Los Angeles English Center? Visit ECLA today!
Follow us on Facebook!
Comments
comments