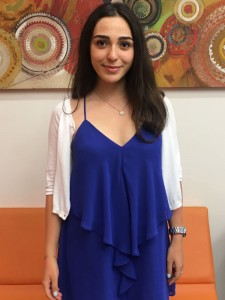 Name: Mariam Grigoryan
Nationality: Russian
Why did you choose to study with EC?
I believe that this school is one of the best schools to study the English language.
What do you like most about EC teachers?
The teachers are very friendly and open in communication and in any unclear/incomprehensible situation are always ready to help. Lessons are held in a very pleasant atmosphere and each lesson is unique.Teachers never allow us to get bored. They always consider our preferences.
What will be your most unforgettable memory of EC?
Certainly, the school is located in one of the most beautiful cities in California. Every day was special, unforgettable, and memorable. I learned a lot of new information and met the most interesting people. I made many new friends from different countries. As the school is so conducive, I would wait impatiently for the next lesson.
Would you recommend EC to a friend? Why?
When I come back to my country, I will definitely recommend this school to my friends and relatives and come back here again. The most important thing for me was to overcome conversational hurdles. I have improved in my conversational skills. I am happy to have this experience in my life. Thanks for everything you do! I will keep fond memories of you.
Great job, Mariam!!
Do you want to learn ESL in Los Angeles? Visit ECLA today!
Comments
comments