Hi, I am a Japanese intern, Mako.
How was your thanksgiving weekend? It was my first time to spend a thanksgiving day in US.
Honestly, all I knew about this holiday was just "people eat turkey".
But now I know more things, so I would like to share my experience on thanksgiving day.
First of all, what is Thanksgiving day?
According to Wikipedia,"Thanksgiving Day is a public holiday celebrated on the fourth Thursday of November in the United States. It originated as a harvest festival. Thanksgiving has been celebrated nationally on and off since 1789, after a proclamation by George Washinton. It has been celebrated as a federal holiday every year since 1863, when, during the American Civil War,President Abraham Lincoln proclaimed a national day of "Thanksgiving and Praise to our beneficent Father who dwelleth in the Heavens," to be celebrated on the last Thursday in November."
On Thanksgiving day, I joined parties which were held by my friend's relatives. In the party, there were various dishes on the big table and main dishes were turkeys and some kinds of pies. People usually put cranberry sauce and gravy sauce on some pieces of turkey and mushed potato.
Before starting eating, people make a circle with their hands holding next people's hands and one person gave a brief speech.In the speech, he thanked for everything and the others nodded what he said. Then we started helping ourselves and enjoyed eating them with a chat.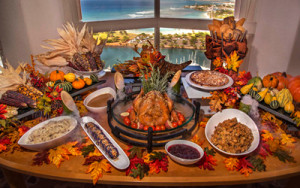 I noticed that the main things on this day are not to eat turkeys, but to get together with your families, make sure they're doing well and make sure how people around yourself are important in your life.
Thanksgiving is the day you remind of important thing and you spend precious time with someone you love.
Happy Thanksgiving!
I hope you had a wonderful Thanksgiving day!
Looking for cultural experiences in Los Angeles? Visit ECLA today!
Comments
comments