From Nov 24th to 27th, I went to Las Vegas, which is called "City of sin Casino" .haha. This was my 3rd time there,but actually, it was my 1st time after my 21st birthday to go to night clubs and casinos. Also, I planed to meet my friend from UCI there.That's why I was so excited before going there.
I will describe my experience there day by day.
1st Day (11/24)
We got there around 6, then we checked in to the Luxor hotel.
I met my friend there and we ate dinner at Panda Express before going to a famous nightclub.
Then, we went to Hakkasan finally! I had heard of the name before because I think it is the no.1 awesome nightclub in Las Vegas. Before we got there, we enjoyed a few drinks at the hotel. I knew all drinks are expensive there. For example, 1 bottle of beer is $11, Vokka and Redbull are $25…..We were able to get in the club as VIP guests, so I didn't have to wait for a long time, but I was surprised at too strict dress code. As soon as I entered there, I was surprised again at the very huge room. Although it was not so crowded because it was still early, more and more people were coming later.I had a really great time with my friend and talked to some strangers in English.They were soooooo drank lol. We were there until 1:30 and went back to our hotel.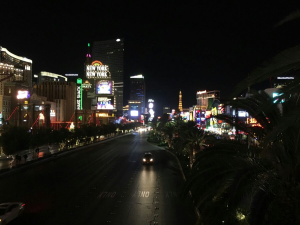 2nd day (11/25)
We didn't have a plenty of time to recover our conditions, but we managed to get up at 6 to go to Grand Canyon!! It was also my 3rd time haha. It took 6 hours including a break time. We got there at 2 o'clock. At the beginning, I enjoyed taking funny pictures with my friend at the best spot to do. After that we just watched landscape. Fortunately, It was awesome because of good weather and also no cloud.
At the night, we went to another night club which is called OMINE. It is a new one comparing to the others in Las Vegas. It was also wonderful than I expected.We enjoyed dancing and drinking as usual. We were here until 3 o'clock.
3rd day(11/26)
I went to Marquee to join a pool party. For me, It was 1st time to go to night clubs in the morning, so I was very excited for it. When I entered there, we still have a few people.  Also, it was a little bit cold, but the temperature of water was warm. I spent long time being on the bed in the pool. It was sooooooo comfortable.
At the night, we went to the last night club called XS. It was smaller one that I ever had in Las Vegas, but music was kind of the one I like. After that I went to New York New York due to casino. I played Black Jack. I didn't know about its rule well ,but I spent $200 just for fun lol.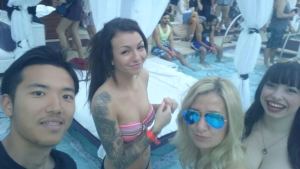 4th day (11/27)
We left our hotel at 10 and went to Primm outlet. I bought a sweater for me and a wallet for my mother.We arrived at LA at around 9.
Comments
comments