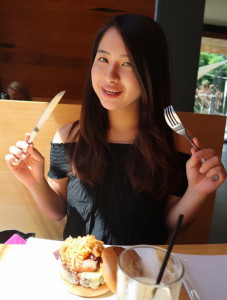 Hi I'm Mako.
I have been working as an intern at EC since the beginning of February.Then as my time at EC comes to an end, I want to say thank you through our blog.
I am now typing while looking back days in Los Angeles and it slightly brings me tears….
At the beginning of my internship, all I could do were honestly just to say "Hi!" with a smile and eat and drink a lot like a vacuum. I could not even speak English enough and I had been losing a confidence toward myself day by day. However, at that time, coworkers, teachers and even students helped me and cheered me up.Even though my position is to help students and support them, I would say that students rather help me, cheer me up all the time, even now. Coworkers often took me out for drinks and let me join a lot of events. Teachers made everywhere at school like classrooms to learn English for me. Students hanged out with me frequently and sometimes gave me letters and presents. I don't know how many times I felt that I am really happy to work here and that I made a great and right decision which brought me to this place. Without even one person, everything won't be same. l cannot thank you enough. I really feel myself a lucky person from the bottom of my heart!
Before I moved to LA, I was a general and typical university student in Japan.  I would wake up late, go to classes and work until the midnight or drink until the midnight. That was my daily life before. But for the past 10 months, my life has been totally changed.  I meet new people every Monday and say goodbye to graduates every Friday. Even if I have been here for 10 months,I still feel excited every Monday and feel sad every Friday. I still cannot believe my time here is over. In Japanese, there is a proverb "一期一会(ichigo-ichie)" which means "Treat every meeting like it is the first and the last, and enjoy every encounter to the fullest because it may not come to you again.". I really feel there is nothing that I can take it for granted. I feel myself a bit cheesy though, I can say strongly it became my motto though all experiences.
I had a lot of wonderful encounters and a lot of amazing experiences to take home with me. I got a lot of things, such as friends, English skills, memories and extra weights…. literary "a lot"! I have wondered how I can tell what I have seen, heard and experienced so far to my friends or my family after being back home. By telling all stories? By showing all pictures? Now I just got one conclusion. The best way is to show them myself who have been changing through all experiences I have ever had.  I am pretty excited to go back home and be a senior in my university. I expect that I can make another year in my university even more worthwhile since I learned a lot of lessons over the months.
I'm sure I will miss everyone and everything.Thank you so much for making my time at EC fly by<3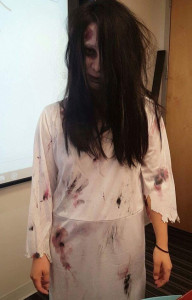 Looking for Homestay English Courses in Los Angeles? Visit ECLA today!
Comments
comments