Have you heard of the Student Ambassador Program at ECLA? This program was designed to engage students in the EC culture, build a positive school community, and provide a way for our students to gain international leadership skills. If you are interested in learning more, check out what former Student Ambassador, Jane (Switzerland), has to say below!
It's Réjane Seydoux's birthday today! This former Student Ambassador shares her experience with us in the video below 🙂 Happy Birthday, Jane! And thank you, Valentina Balaguera Orjuela, for the great video!

Posted by EC Los Angeles on Wednesday, August 16, 2017
Hello everyone! I hope y'all are doing well at ECLA… are you???

Today, I am writing about my experience as a student ambassador for almost 2 months! I will graduate next week, and I feel like I have to share this extraordinary experience with you!

So… What did I do as a Student Ambassador?

I met new students every week! Every Monday, I came to the Orientation Room where I told the students a bit about myself. Then, in the afternoon, I hung out with all (or almost all!) of the new students at Barney's (our local pub)! I had such a great time with everyone there! I really liked meeting new faces every week. And I was super excited to get students coming to me to ask me questions about the school or LA! Another thing I really, really liked was the graduation! I loved being there to congratulate the graduating students!

Student Ambassadors cheer on their friends every week at Graduation!

What else did I do?

Well, I had meetings with my fellow ambassadors and we discussed the activities every SA would lead while eating pizza! That's so cool right? I also had the opportunity and the honor to meet amazing people with whom I share a common interest: helping and supporting new (and old) students. And this, my friends, is awesome.

We love our Ambassadors!

So, one important question would be: what did I learn as a SA?

To be independent. I had the opportunity to lead some activities (my favorite one being hanging out at Barney's with the new students!) and I discovered what it's like to have responsibilities. I also learnt to be creative.

Would I recommend being a SA?

Definitely! This is like the coolest thing you could do when you are in a foreign school! Not only do you meet people from all around the world, but you also get the chance to discover new cultures, foods, languages, and my favorite: make new friends!!!

These people are amazing. Thanks for helping us to build a great school community!

To conclude this blog post, I'd like to thank y'all for the great memories and amazing experience I had here, in ECLA.
And I'd like to address special thanks to Ashley who created this program and gave me this awesome opportunity!

Xo
Jane
Thanks, Jane, for your lovely words about the Student Ambassador Program!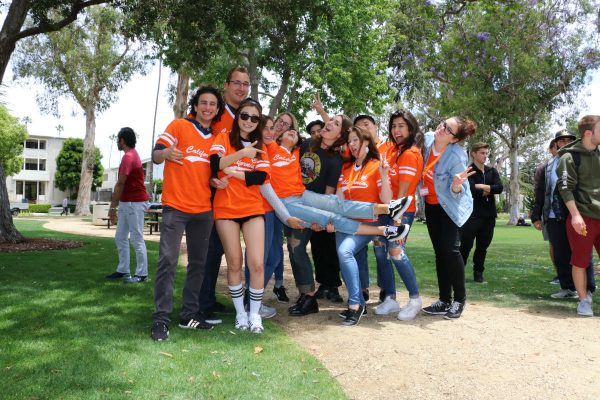 Did you know you can Study Business English in Los Angeles? Contact ECLA today!
Post Edited by: Ashley Lee
Video Credit: Valentina Balaguera
Comments
comments