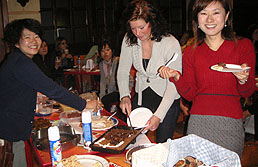 On November 15th EC Malta held The Sweet-tooth Competition in Kayos Cafe, which provided our students with a perfect opportunity, both to prove their own unearthly baking skills and indulge themselves in nibbling on their competitors' creations!
As twelve teams had put their hearts and souls into their pastries, the choice of three winners was not a piece of cake for the unbiased panel of judges, constituted of Chris (Malta), Nat (Malta) and Haruka (Japan). " My life as a teacher sucks, i have to eat free cakes and then judge them", commented Chris!
The jury were to make their decision based on the combination of presentation, creativity, and taste of the entries. Ginger-flavored fudge cookies, favoured by Haruka, took the third prize, and their happy makers (Catja Lonnroth, Janina Nikell and Ksenia Ivanova) were rewarded with original EC bags. The 'Apple Pie' team (Olle Westmar, Heloise Vande Wiele, Jane Sakevich and Marina Grigorvan) got the second highest score, and as a result of that, EC shirts and bottles of good wine. Yet the ultimate winners, 'Pancake', with a touch of Russian sgushyonka and Philadelphia cheese was absolutely unparalled and earned its creators (Elena Koltsova, Miyuki Goda, Nadege Clerget) cinema tickets and EC shirts.
We congratulate the winners and wish them to keep it up!
Comments
comments