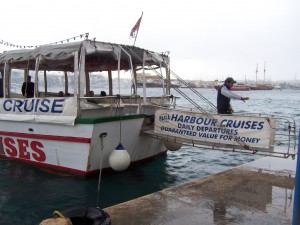 Pouring rain and some hail on the EC building did not inspire great hope in me for what the harbour cruise would be like. We arrived at the seashore under slightly better skies and all boarded the vapur (maltese for ship). The weather turned out to be unimportant as the boat was well covered by a plastic canopy.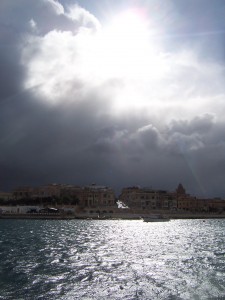 We set off and the sights on every side were stunning. The workers on the boat explain what you are sailing past. If you want to know historical background then it's good to listen to this, but I was just as happy sitting and watching the huge domed churches and beautiful buildings slide past. The cruise took about an hour and a half and we arrived back in the harbour to a beautiful rainbow–a cheesy but lovely end to the ride. Everyone then walked into Sliema for some shopping!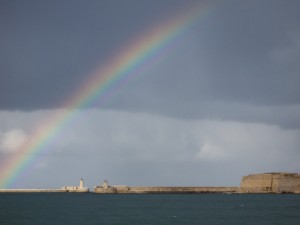 The shops are good and easy to find. I managed to buy a dress for only 5 euros in the sales.
A very successful trip despite the weather, with lots of beautiful pictures!
The cruise costs €11.50 and is on most weeks. Speak to the CR staff at EC for more info.
Comments
comments