EC Malta has once again successfully hosted the 'Fuji Group' – a group of 22 junior students from Japan. The all-girls group attend a roman catholic school in Shizuoka (near Mt. Fuji). The group visit us here in Malta for one week per year where they have lessons held at the Convent of Sacred Heart in St. Julian's together with a full week of EC activities allowing them to see the culture and sights in Malta. I was lucky enough to accompany the girls on their trip to Malta's old capital city -Mdina.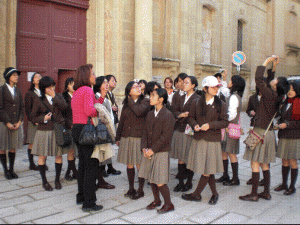 We greeted the 22 students at 3 o'clock as they left Sacred Heart School . The group aged between 16 and 17 were dressed in the uniform of the small Roman Catholic school and were all excited to board the bus for their excursion. During the trip Laura, our tour guide for the day, described Malta's history and culture as we drove through the island's towns and countryside.
We arrived in Rabat, where we left the coach, and entered Mdina on foot through the city gates. The beautiful, shaded cobbled streets provided relaxing shelter from the blazing sun, and we wandered around the city while Laura explained the buildings' styles of architecture. As we approached St Paul's Cathedral, one of the students exclaimed "This is heaven!" and it's true that the cathedral looked stunning with the sun shining on the more than 300-year-old stonework. But the interior was even more breath-taking. Huge painted domes and gilded decorations filled the building. The students were also lucky enough to see the preparations for the Easter celebrations.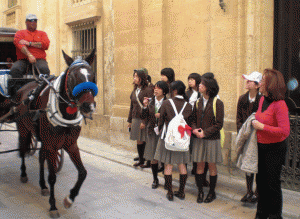 Returning to the sunshine outside, the girls headed next for what has to be one of the most impressive views to be found in Malta. From almost the highest point of the island, we could see right to the sea. The girls all gathered for a group photo in front of this vista.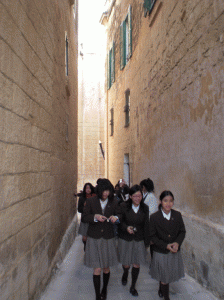 Comments
comments