EC students… Now is your chance to attend one of the greatest events this summer!
Following the success of last year's Malta Music week in celebration of the Isle of MTV there will be a series of events between the 3-8th July with the grand finale the Isle of Mtv on the 8th July at Fosos!
The biggest pre celebration will take place on Saturday the 4th July at the most sought after venue—The Popeye Village in Anchor Bay with the amazing performance of non other then ROGER SANCHEZ!!!
Djs on the night:
MYKILL AND THE BONGOMAN, JJOY, TONY TONY, LUC ADAMS, RYAN TERPS (U.K.), AND NATIN D
SPECIAL ATTRACTIONS:
D_EGO ON SAXAPHONE LIVE FROM ITALY
PERCUSSIONS
THE AMAZING VENUE THAT IS POPEYE VILLAGE MEGA LIT UP WITH THE LATEST TECHNOLOGY OF SOUND AND VISION!!!
TICKETS OUT NOW AT 20 EUROS ONLY
GET THEM NOW FROM THE EC RECEPTION!!!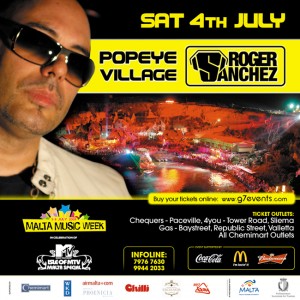 Comments
comments