Seventh Day (03-18-2011)
It's a big day today! Everyear, Kindai students who come visit our islands are lucky enough to meet with the Parliamentary Secretary for Tourism – Dr DeMarco. Malta being a small island benefits alot from tourism so the minister is always very happy to meet such particular students such as Japanese, that come from so far away living in a very different culture.
Once Sensei (their teacher) gave them a pep talk and made sure everyone looked smart, we where off to Valletta. On arrival, we noticed that we where very early, so we decided to go to one of the very nice gardens in Valletta, this particular one being 'The Upper Barrakka'. This was ideal, as the students could reflect and sooth any nerves about the meeting that was to come. Of course once here, one had to take a few pictures for memory's sake – and so we did! My favorite one of these was a group photo at the viewing point that oversees the harbours of Malta.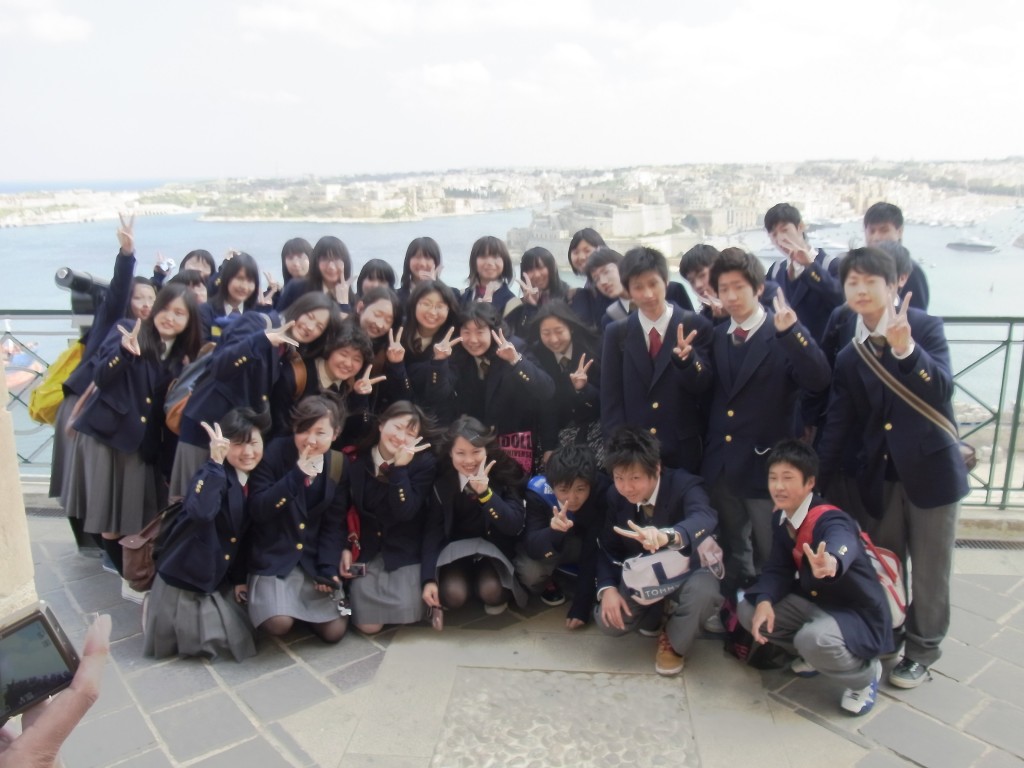 When it was time to go, we met with the four people from EC who have worked very closely with this group and who will be attending the meeting aswell; Michael Pisani – Junior Programme Manager, Simon Formosa – Junior Coordinator, Haruka Nakamura – The Welfare officer for this group and Mika Kaneko – A Japanese intern with EC who was helping out with the group. Once everyone was present, we made our way to the Oberge D'italie where the meeting will be held
To start off the meeting, Dr DeMarco gave the students a short speech expressing how happy he was to have another meeting with Kindai this year. He also took the occasion to express his feelings about the current national tragedy that has been going on in Japan. He assured the students that Malta will offering all the help that we could provide and that we are here to help. After the Minister's speech, a student from the group presented a speech of his own – which also pointed out how honored the students where to be given this opportunity.
Finally to finish off, a book was presented to the Sensei, the student's teacher from Japan and Ayako their tourguide that also came with them from Japan. The students were also given a bag full of souvenirs to remember this event. With a final goodbye we just took a final picture with the minister and that was the end of this memorable day!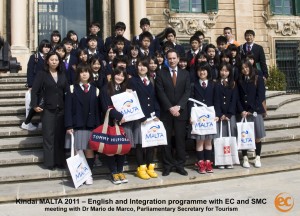 Matt,
EC Juniors Blogging Team, Malta.
Comments
comments