An article by student Juliana Betancur , Colombian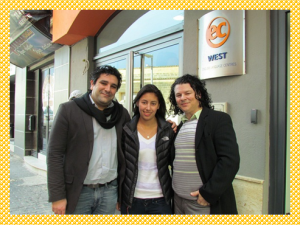 Last week I had the opportunity to interviewed two EC teachers, whose secret passions, hobbies and also subject of this article, is music. They are Kevin Spiteri, a percussionist/Bongo player and Sergio Gatt, also known as Sigo , the lead singer and guitarist of Phlaparoos. We talked about Malta's music scene, including the places and major events that happen in this beautiful island. Here are some of their answers:
Q: Kevin, first of all, thank you very much for taking out the time to answer these questions. To start, what kind of music is usually heard in Malta?
Kevin: Well, from the commercial point of view, in clubs, is house music, commercial music in all its versions. The rock scene isn't that big in Malta, in fact it is even reflected with the type of concerts and the personalities that they do bring over.
Q: What are the principal events that happen in Malta?
Kevin: Ok, the main event is the Isle of MTV. I've had the opportunity to work with the organizers of this event, which was a bit of a bonus, because you manage to meet the people, get contacts and everything. It's the main event where they do get about 3 or 4 big acts every year. Last year, for example, there was Snoop Dog and David Guetta; a couple of years ago BEP, Lady Gaga, Enrique Iglesias, Maroon 5, The kooks, etc. Also 5 days preceding that, there are 5 big events organized by us. Besides that, there are other regular events during the summer, regular parties, Djs like Fat Boy Slim, Prodigy and also there are the concerts, people like Elton John, Michael Bolton, Sting, Carlos Santana as well, that was an amazing gig. So we do get a couple of good artists, but they have to have a certain level of prestige.
Q: Do you think you have enough places to please all the musical tastes?
Kevin: No, definitely no, it's not balanced at all, it does reflect a little bit the following that certain genres have over here, because, I mean, if you go to Paceville every single club plays the same songs over and over again. When it comes to rock clubs we have 2 or 3 at the moment; 2 in Paceville, one of them is Coconut Grove and the other is V-Gen, besides this there is one in Bugibba called Rookies and it's got live gigs every Fridays, sometimes Saturdays as well, and hosts "battle of the bands"' a rock competition; and there is also a new venue that opened in Paceville called BJs (that stands for Blues ad Jazz)
Q: and finally, for you, what is music?
Kevin: Music is my life, I can not live without it, it's something for everything, you know, music can be used as medicine, therapy, just for enjoyment, just to pass the time, it can help you appreciate things more, it makes you feel good, if you are depressed it's something that can make you feel over the moon, so it's something which accompanies a person, I use it in many different parts of my life, so music for me…. I wouldn't say is everything, but is very close to being everything.
Q: Hi Sigo thank you very much for this and if you don't mind let's start with the first question, Which are the favorite musical genres of the Maltese?
Sigo: Hi, ok, I think that basically there's a lot of young people that like Rap and Dance music, and all that, although on the radio you hear lots of American music, Pop American music and British Music.
Q: and what are the principal events that happen in Malta?
Sigo: Well, I think, the principal one for live music is the Jazz Festival which happens every year, quite well known in the jazz scene, usually in June-July. There is also the Beer Fest that also happens in summer. Those are the main ones, but then, there is also a few smaller ones that started to get better, because each village has it's own "Festa", usually with tribute bands.
Q: Ok, interesting, and for you Sigo, What is music?
Sigo: Music is inspiration, it gives me the push to carry on when I'm quite down, it also relaxes me and it puts a smile on my face.
Q: and last but not least, What future has the music scene in Malta?
Sigo: I think that we can not talk about that anymore, nowadays we are going to that era where the internet its very important so it doesn't matter where you are, really, if you make it, not like Madonna or these people, its very hard to get in that place, but getting up to the level of Coldplay, maybe you can, nationally and internationally as well. I think it's very hard to make lots of money from the music business anymore, but there is a Maltese Opera singer, Joseph Calleja, and he is doing very well, he was nominated for some awards in America. But I think that the more we go, the more ….we just go onto making a bit of a sound, people hear you and that's it, maybe sell a couple of songs over the internet and that's it. If a musician wants to play live and wants to get his music heard on YouTube and stuff like that, it's very easy nowadays, so it doesn't matter where you are; making money out of it, that's another thing, but at least getting it out there, most musicians would agree, that the most important thing is that you actually make people hear your music.
Interesting Information was obtained thanks to this amazing interviews, my regards to both, Sigo and Kevin, and finally after being at each ones live gig I can assure that they do not only have this music knowledge, but they are also great musicians, I invite you all to see them play, Kevin usually on Fridays at shadow, and Sigo usually on Thursdays at BJs, for further information just ask them. Malta maybe small but its music scene is vast; something for everyone. If you find a cool place to chill, party or rock your socks off then let us know. Drop me a line at the E.C. News letter or post it on Facebook with E.C. Party on dudes. This has been Juliana Betancur Arenas reporting.
Comments
comments