EC Malta hosts classes for asylum seekers to teach various skills to better integrate into Maltese society on EC's Community Day.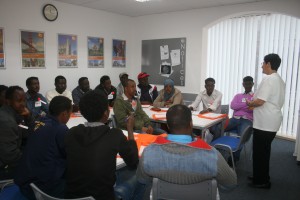 Bianca Caruana
________________________________________________
EC Malta's English language centre in Paceville held classes for 71 asylum seekers who voluntarily enrolled to learn various skills to help them better integrate into Maltese society.
Mike Xuereb, EC Malta's CEO, said the classes were being held as part of EC's Community Day which was set up in honour of Fredric Gonzales who passed away recently.
"Community Day, or giving back for Fred day is part of EC Group's initiative of setting up a Corporate Social Responsibility team at the end of 2011. The CSR's main function is to focus on sustainable management, more education and giving something back to the community," Xuereb explained.
All 15 of EC's language centres located worldwide participate in Community Day by organising community and environment related projects.
"The projects vary across all the centres. The centre in Cape Town is helping underprivileged children and the one in England is building a birdhouse. The Maltese team is working on two projects today.
"The first is helping the Equal Partners Foundation by giving a facelift to their two properties. The second is teaching asylum seekers essential skills which we feel are important for social integration as well employment," Xuereb said.
The Equal Partners Foundation was set up by parents to help disabled children to integrate into the community and has two properties. "What EC volunteers are doing, is basically painting, cleaning, gardening… basically giving the places an overall facelift for them to enjoy their surroundings more," Xuereb explains.
Classes were held by EC teachers on a voluntary basis for asylum seekers to teach them conversation skills, interviewing and phone skills as well as providing them with information about Maltese culture.
Xuereb said that the asylum seekers were free to enrol and hopes that through word-of-mouth, the experience will be shared to eventually result in more classes for them in the future.
"This is just a one day activity as part of EC community day but we are hoping to host more in future with a more structure programme and good rhythm to acquire the language skills which will help them integrate better in Maltese society," Xuereb said.
Jalal, one of the enrolled asylum seekers from Sudan, seemed to thoroughly be enjoying himself on the day and said it was helping him a lot.
"The service here is good and the classes are useful. They're important so I can improve my English and gain more skills for work. I study English at the Marsa Open Centre for four days a week," Jalal said.
When asked if he would like more regular classes to be held by EC, Jalal said, "Although it can be a bit busy with the other classes, it would be very good to have classes with EC more often. I would enjoy them."
Comments
comments