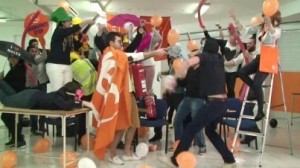 Article by Sabine Bobrowski – EC Malta Intern
2012 was Gangnam Style . . . 2013 the Year of Harlem Shake!! That's what the Community says.
Around the Globe people are doing the Harlem Shake. There are hundreds of examples to find on the Internet. Not even EC Malta could stay away from this 'craze' and organized its very own EC Harlem Shake.
For those of you who do not know what the Harlem Shake is all about, here is a little description:
The Harlem Shake is a dance by a random number of people. The music is a style of hip hop with heavy bass instrumental. It starts with one dancer while everyone else is sitting still and quiet. As the music gets wilder everyone starts to dance in a very crazy way. Everything desired is permitted.
Mainly, it is the fun factor that makes people do the Harlem Shake and to share it on the internet to see how other people react to it. This special dance became very popular over the past few months on the net.
About 40 Students of EC met on Friday 22 February 2013 at the test centre to let themselves go. The students ensured that there was fun from the first minute and warmed up with rehearsal dances for the recording.
The opening scene showed 9 students and interns acting out a typical test situation. Meanwhile a member of the EC team danced around the 'testing students'. To stay unrecognized the EC team member wore a Halloween mask and a cowboy hat. The Scene was repeated several times to ensure everything looked authentic on the video.
For the 2nd Scene all students were asked to join the group to shoot the 'crazy' part of the video.
To have a greater effect the pupils brought hats, masks, goggles, a ladder, umbrellas, balloons, a jumping ball, pool sticks and even an extinguisher. Anything was allowed to help add to the fun factor.
About 20 courageous students danced, jumped, rocked and even swam without rules or a script in the Test Centre. There were approximately 15 spectators who watched the event unfold.
After several takes the material was complete and the video was ready to be edited.
On the same afternoon Stefan and Thomas ensured that the video was done and uploaded onto Facebook.
The finished Video is extremely funny and absolutely worth seeing. On the same evening the EC Harlem Shake Video was liked 200 times on Facebook. To date we have counted more than 90 'shares' and over 380 'likes'. Through Facebook analytics we have confirmed that the EC Brand's reach and contact extended to over 25,000 new individuals within the first 2 days thanks to the video.
Check out our great Harlem Shake Video on our Facebook Page:
https://www.facebook.com/ec.malta#!/photo.php?v=10152566941630244&set=vb.124178077626682&type=3&theater
Are you doing the Harlem Shake?? 🙂
Comments
comments