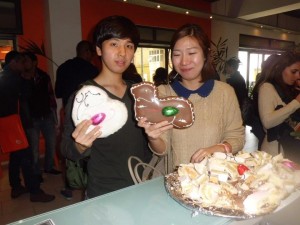 Easter is probably the most exciting and colourful times for Malta. It's the time when the Maltese culture comes alive! Starting on Holy Saturday, around 8 pm, there is a special celebration to honour Christ's resurrection. Celebrations start in pitch darkness. Then they are illuminated by flickering candle lights. Finally there is an 'explosion' of light where churches are suddenly illuminated with candles, chandeliers, bulbs, floodlights, etc. Bells toll happily as they break the night's normal silence in order to announce Christ's central event – the resurrection.
The Easter Sunday procession is very colourful and full of life, truly depicting the good news of the resurrection! There are moments in this procession when the very heavy statue of the Risen Christ is actually given a run by the bearers. And some runs are uphill so these men have to be quite strong and fit. This is an old Maltese tradition and happens in the three Cities, Vittoriosa, Cospicua and Senglea.
Easter in Malta is a far busier religious occasion than Christmas for its sheer preparation alone. Street processions, pageants, tableaux, displays, bell ringing, band marches, statue carrying and passion plays are all happening. The effort and manpower to deliver these religious spectacles is enormous. Each year, more parishes stage some outdoor public event to mark Holy Week and the numbers of willing volunteers grow. Some parishes, even in Gozo, have dedicated drama groups just to stage pageants during Holy Week.
A lot of Maltese folk who fast for the whole Lenten period of 40 days look forward to the traditional 'figolla' and chocolate Easter eggs and the sumptuous Easter lamb lunch. Easter really is a time when one could feel the strong Christian faith of this special tiny island and my I add blessed island – in more ways than one!
Comments
comments