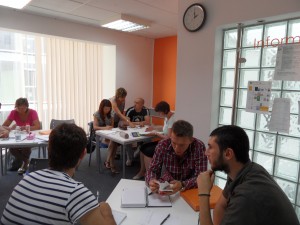 So, you're an intermediate level student of English and would like to develop your communication skills further so that you can travel around the world. Or maybe you're after making that first step onto your career ladder, but you're not confident that your English is up to scratch. It could even be that you need to improve your English to help you with your university studies.
By enrolling in an intermediate level English course at EC Malta, our students learn how to tap into their existing knowledge and develop their language skills further through interactive and collaborative tasks, just like they would in the real world. For instance, they could work on a joint project, or tune in to the more natural sounds of the language via news broadcasts, podcasts and other authentic listening resources. Our weekly reading club provides plenty of opportunities for improving one's vocabulary bank in a relaxed atmosphere, while at the same time exposing students to natural structural patterns of the English language. Many of our students also enjoy after school activities, or they attend local events. Even simply going out in the evening with newly formed friends provides a wide variety of real life situations in an English speaking setting. (Let's face it, everybody needs some time out after class.)
So, as the saying goes, if 'the world is your oyster', then doing an intermediate level English course at EC Malta could help you find your pearl!
Comments
comments