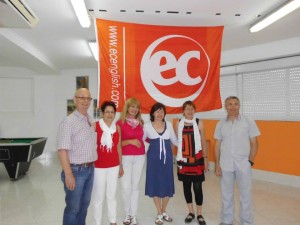 By Patricia Amodeo
Why come to our English Courses for Adults 50+ in Malta?
First of all, students who are my age may not want to be in a class with teenagers and young adults… reasons may vary – different goals; different topics in a conversation class; or just the opportunity to meet people of our age from diverse countries and cultures. The classes are conducted by experienced teachers who are trained to be sensitive to the needs of students.
Furthermore, if you long to be in a balmy, warm climate – where the sea is unpolluted and crystal clear; If you would love to stroll through idyllic, history-steeped, narrow streets; If the thought of having a delicious meal by the Mediterranean Sea sounds delightful and perfect; then you must consider our English courses for Adults 50+ in Malta.
No matter how basic your English skills are, we guarantee that you will not be disappointed with our service. You will be guided into the right level, you will have scintillating conversations with your peers, and, of course, learn new vocabulary and collocations… all with the guidance of our hand-picked teachers.
So, why not contact us now? We will be happy to assist you in selecting the most perfect Learning/Holiday experience of your life. At EC we aim to please…and to satisfy…our valued clientele.
EC Malta…the place for English Courses for Adults 50+ in Malta…you will surely not regret it…in fact, you will probably want to come again!
Comments
comments