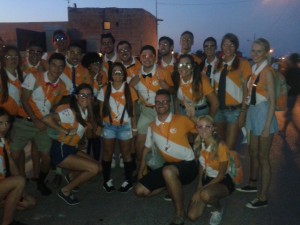 By Alistair Baldacchino, Junior Coordinator
Summer 2013 has come and gone and all we're left with are memories of what has been a truly unforgettable summer. Week after week the EC team welcomed thousands of students from all corners of the globe to our beautiful island in the heart of the Mediterranean. The majority of students came from France, Russia and Italy. Malta is the ideal summer destination. It possesses all the ingredients needed for the perfect summer recipe; the sun, the sea and a collection of beautiful places for one to explore.
This was my 3rd year working as a leader with EC and it saw me work with a new team of leaders ranging from musicians to dancers and athletes. The blend of people made an excellent team which made this summer as enjoyable as possible for our students.
EC makes learning English in Malta as fun as possible, the junior programme consists of a packed schedule of activities which the students would attend before and after lessons. Some highlights of the programme include trips to some of Malta's most beautiful beaches such as Golden bay, Mellieha bay and St. Peter's Pool. The students used to love swimming, sunbathing and diving into the sea. Malta being part of an archipelago meant that the students had the chance to visit our sister islands Gozo and Comino. Our students also used to have a packed evening schedule full of parties where the students and leaders would dance the night away. Other evening activities include go karting grand prix's, boat parties and sports tournaments.
After having had such an incredible summer at the end of it all we are left with are memories, photos and a lot of new friendships which will last despite being so far away. This only gets me more excited for the upcoming summer which will be bigger and better than ever before bringing in a handful of new faces to the EC family!
Comments
comments