On Tuesday we went to Valletta, the capital city of Malta. The weather was nice and sunny, so everyone enjoyed the trip to the capital city. During the tour we saw the ceremony of the changing of the royal guards and many historic buildings. We also saw the wonderful and beautiful panorama of the Grand Harbour from the Upper Baracca Gardens. It was an amazing trip for me and the Club 50+ group.
On Wednesday we made our way to Mdina with Laura our tour guide. Mdina was the previous capital city of Malta. First we visited the glass factory where we saw how glass is made and saw many beautiful glass items. We then headed to the fortified city of Mdina which is very peaceful and pretty. There were very few people wondering the streets quietly, so much so that Mdina is called the 'Silent City' by many people. We went on the bastions of the city, a View Point from which you can see most of the island.
It was a great start to the Club 50+ programme… stay tuned for more Club 50+ updates on our blog, and visit our EC MALTA FACEBOOK PAGE to see all the pictures!
Jeong Young Rong, EC Malta Intern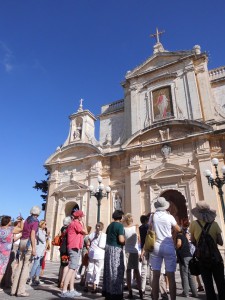 Comments
comments