By Susan Arena
Are you tired of the same old language courses? Are they all reminiscent of your schooldays with exercise after  tedious exercise and lack of speaking practice? Then you have come to the right place!
EC Malta offers so much more than the run of the mill English courses.
Let us start with the basics-your lessons and teachers. All the teachers at EC are chosen not only for being highly professional and experienced but also for that little something extra. Many of our teachers come from diverse backgrounds ,from business and commerce to art, theatre and film, journalism, tourism,-the list is endless. At EC we embrace diversity and creativity  as we believe that it enhances the learning experience, making lessons fun and interesting. Apart from the usual lessons where you will be able to improve your integrated skills, those of you who book long term courses of 30 lessons a week will be given a choice for the afternoon module. This option includes Academic Skills, Global Citizenship, Film Studies, Music and more.
Since we understand that our students are individuals with individual requirements, in addition to the scheduled lessons ,  the school also provides  a range of specialised free lessons to choose from which take place outside the normal timetable. You can join Pronunciation Clinic for help with those challenging sounds in the language , pay a visit to Café Chat where you can enjoy a coffee and speak English in a relaxed, comfortable atmosphere or go along to Writing Clinic which focuses on the skills needed to write anything from a simple postcard or email to a formal report or academic essay. If this were not enough, EC Malta also provides free ,monthly lectures given by teachers and outside lecturers on various topics ,such as the Environment, Travel, Film, History, Literature and many more. These lectures are invaluable in helping those students whose ambition is to study a Cambridge exam course or attend  university abroad. Furthermore, the school boasts of a fully equipped self access centre for self study and a library where you can borrow books or films to help  improve your skills in your own time.
In English there is an expression,"All work and no play makes Jack a dull boy". Lessons are not the only way to improve your language skills, so what about after school? EC school is located in the heart of St.Julians, Paceville  where  you can find a bevy of nightclubs, bars and restaurants as well as the biggest cinema in Malta showing the latest releases ,plus 3-D and even 4-d shows. Apart from the local entertainment , there is always something going on at school. There are numerous organized excursions which are offered at a lower rate especially for our students and also free organized events. For example, the International Food Festival where students bring along their own home-made national dishes for all to try. At EC we take our environmental and charity work seriously and you can join in with a charity walk or bake sale.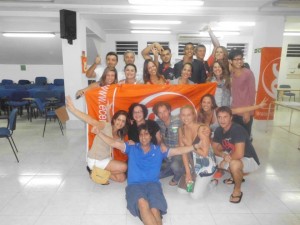 Whoever thought that learning English could be so diverse and enjoyable? EC did! That is why we are certain you will find everything you want and more here with us. So, don't delay ! Come and join our big, happy family –your schooldays will seem like another world 🙂
Comments
comments