Here is our schedule for this December with lots of fun activities for students learning English in Malta, including our annual Student Christmas Party which will be held on the 12th December – eve of a Public Holiday… with flowing food and drinks this event is surely not to be missed!
Please remember that the school will be closed for one week during Christmas and we will be open again on Monday 30th December.
Staying in Malta for the New Year? Then buy your New Year's Eve ticket for the **Q Bar New Years Eve Party** at the Valletta Waterfront and celebrate the start of the New Year in style!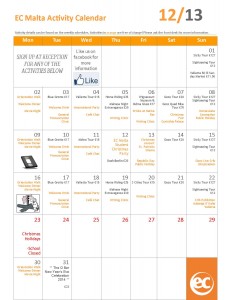 Comments
comments