Gozo is one of the three islands which form the Maltese archipelago. Malta, the main island and Gozo and Comino, the sister islands. Gozo offers its thousands of visitors, amazing scenery, a quaint and laid back life style, it is rural and authentically Mediterranean offering a culture and way of life of a bygone era.
Last Saturday, 22nd February, a group of students studying English in Malta, joined a tour to Gozo, organised by the school. They experienced first – hand, the beauty of this rock in the Mediterranean and shared their experience with us. The tour was lead by a local guide, who told our students the history and characteristics of the island. Therefore, besides discovering the island and its history, the students also practised their English during the tour.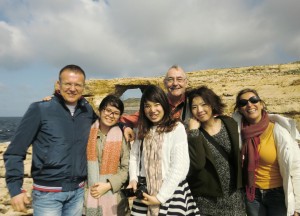 Read below some testimonials from our students about the tour in this lovely island…
"I visited many beautiful places there…Sandy beaches, churches, bays and much more. I had also time to have lunch in a restaurant downtown. My favourite place was the Azure Window, I really enjoyed it. For me it's the most beautiful place in Gozo. I would recommend the tour to my friends because Gozo is a beautiful place and there are a lot of green spaces there. Also, Gozo's cheese is delicious!!! If you like cheese, you must try it." (Haruno Okuda, from Japan)
"My experience was very good. The tour was very well organized and everyone was happy. The duration of the tour was good, we had enough time in all places to look around and enjoy it. The part that I most enjoyed most was the view of the beach. For me, it was very special. I would recommend others students to visit this unique island because the place is beautiful and the guide is very attentive and explain the history of the place." (Adriana Saccol Pereira, from Brazil)
"Gozo is a wonderful island with a lot of history, beautiful buildings and interesting places, especially the Azure Window. It was good because we were a mixed group, so we had to speak English every time." (Anton Gretler, from Switzerland)
"It's was amazing. I had never seen such beautiful views before I joined the Gozo tour. The view towards Calypso Cave was my favourite spot. There, we took photos with the cave in the background. I would recommend a visit to my friends because we had a fantastic day there, and we could communicate with a lot of foreign people and in English and got to know each other." (Shigeyuki Harada, from Japan)
If you are interested in joining the tour, please contact our team at EC reception for more information. The tour usually departs on Saturdays, from 8am to 4:30pm.
Don't miss the opportunity to join the tour and discover the beauties of this island!
Click here to see more photos!
Comments
comments