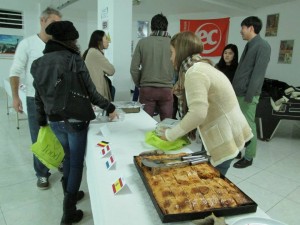 Have you ever tried traditional food from a different country? If not, EC Malta has a great opportunity for you to taste the delicious cuisine that exists around the world. Another edition of the very popular "International Food Fest" is taking place tomorrow, and we are counting on you to promote this exciting experience!
So, what should you do? Just bring your favorite dish from your native country, as well as a drink, perhaps even some music that is popular where you are from. Let's show other students the wonder of your origin. Then, we will share with one another the traditional food of your country.
Together, we will have a lot of fun and we can take our tummies around the world!
When: 12th March (Wednesday)
Where: Test Centre
Event Time: 18:00 pm
17:30 pm (For students bringing food. Please come in earlier to set up your table)
What to bring: Any traditional food or drink from your own country.
Quantity: As much as you wish.
Click here to see photos from previous International Food Fest!
Comments
comments