Most people would agree that having private lessons is going to increase your knowledge, and give you the self confidence you need. It can also help to increase the speed at which you learn English. It should also be noted that taking English private lessons will mean not being in a classroom environment, which can also be a very enjoyable and rewarding experience, as you have access to shared ideas and language exposure from correct and incorrect use of language by other students. It cannot be denied that the student's social life, when mixing with other nationalities, will not only motivate the student to use the language but also create a more fun environment while learning. So it seems a combination of classroom and private lessons maybe the key to a more rounded student.
Another aspect of private lessons is also the individual instruction. Learners can take advantage of being able to personalise their lesson and focus on what they want and need. These two important points 'wants and needs' are sometimes misunderstood by the learner. The teacher is able to identify certain skills (reading/writing/listening /speaking) in the language that need to be practiced. Much like an athlete who wants to improve but they don't have a healthy diet or train in the right way. Here we see a 'want' but the athlete does not realise the 'need'. A private teacher/trainer will direct and focus these wants and needs, so that the student will not only be aware of what is missing in attaining progress but also the opportunity to practice; and you know the saying, ''practice makes perfect''.
As I have said earlier, personalising the lessons for the student is one of the biggest advantages. In the classroom a teacher has to consider all the students but with one to one private lessons the teacher can customise your lessons, much like a tailor, making you a suit. Let me impart two examples of students coming to Malta who requested private lessons.
Frank is a business man from Germany; he has two lessons of general English and one lesson a day of private lessons. He wants to interact with other students and improve his social English skills as well as discuss various topics and learn phrases and build his vocabulary. He is in Malta for a week only. In his private lessons he wishes to be better at English in the work place, improve his emails in English and learn more business related phrases/vocabulary. Frank was able to really focus on his needs and improved substantially, returning back to Germany with new skills and confidence. His one to one lessons gave him feedback from a teacher who was not only an English teacher but also an experienced business manager and very much acquainted with the world of business and business cultures; which allowed him to really 'get to grips' with the language as well as gaining an unique experience.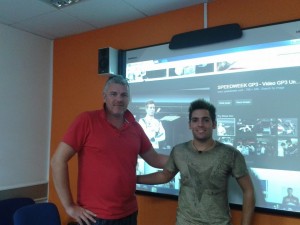 Fabio, from Italy is a 20yr old aspiring racing car driver, who was sent by Ferrari for 2 weeks to improve his general English and to specifically focus on language used in his job as a GP3 driver. This would have been almost impossible to achieve unless he had had private lessons. Fabio was able to improve his vocabulary about race cars, engine failure, race courses, reviewing races and making commentary. Using our state of the art interactive boards we were able to simulate formula 1 races, teach and practice the language associated with his job and discuss driving strategy. Fabio was able to not only learn English, but self critique his driving, evaluate better and get used to listening to instructions while wearing a helmet and driving.
Private lessons can offer a student so much more than just English. It's an experience that is difficult to put a price on because the lessons learnt in a one to one can have far reaching results. Fabio can travel and join other race teams, his career prospects expand, Frank is able to network in his job much better and build relationships. Frank is able to negotiate and understand meetings in English which results in more profitable decisions for his company, gaining him a promotion.
As we learn we grow, so inevitably life lessons are learnt with your teacher; hence a one to one can be a very rewarding and cathartic experience.  Well worth considering since we have teachers from all walks of life who can share their knowledge and skills and help you achieve excellence. You might think that your specific need is too individual but in most cases a private lesson is all you need to customise not just your lesson but also your teacher. EC is all about choice for our students so give yourself the choice and just ask about what we can do for you.
Written by teacher Francis Dobbin
Comments
comments