Summer is coming… So it is time to get ready for the summer! Last Thursday (24/04), at 3 pm, EC Malta held the first Zumba Class of the year, giving students the chance to get fit for the summer and to practise their English at the same time in an animated environment. During the fitness class students had a great opportunity to practise listening, learn a different vocabulary and meet new friends. The Zumba class was held in the Roof Garden of the West Building.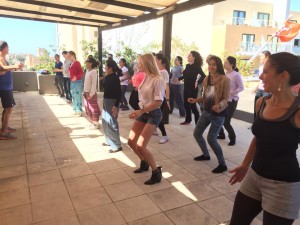 Zumba was created during the 1990, and it consists of a dance fitness programme, which not only involves Latino dancing but also aerobics movements. The choreography includes different music collections such as hip-hop, salsa, merengue, samba and others. Zumba classes offer a body workout and it is also known as "fitness-party" due to the lively and fun environment.
EC Malta is always preparing something different, so keep your eyes on our weekly programme and don't miss any of these amazing experiences!
Thank you all for being part of this fun activity. See you next time!
Click here to see more photos!
===
Find out more about EC's English Courses in Malta.
Comments
comments