If you are planning to sit for TOEFL Exam, it is better to get ready for it! EC Malta offers many different courses including the TOEFL Exam Preparation Course, which will give you the confidence and ability necessary before sitting for your test. EC Malta can guarantee the best assistance for you to achieve the best results!
In order to explain more about the course, such as the advantages of it as well as the strategies used in this particular course, we interviewed teacher Francis Dobbin who has being teaching the TOEFL Exam Course for about 10 years. With a very efficient background, Francis told us some useful tips for students taking the course.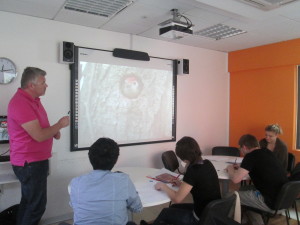 Why would you suggest a Preparation course before siting for the exam? What are the advantages of doing this course?
Exam strategy plays an important role. The TOEFL Preparation Course prepares you with diagnostics and deals with a diverse amount of topics to ready you for the final exam.
What can students expect from the course?
An enjoyable academy and life learning course; felled with interesting and challenging topics. Compare it to a National Geography exploration.
In your opinion, to succeed in the exam what is more important, academic skill or get into the strategies?
Skills are essential. Most native speakers, although understand the language, would find the TOEFL too difficult to do without training. A little like doing your driving test all over again after many years. So skills are the key. However, you must give yourself time, general knowledge and then practise practise practise.
Can you note a difference among students before taking the Preparation and after that? Do you think they will feel more confident afterwards?
Students vary in progress according to time; but generally you can expect, depending on your commitment a 20-30 point increase on a 4 weeks period.
Besides attending classes, what is your advice for those taking TOEFL exam?
To be proficient in English there are many skills or techniques people will advise you but by for the greatest is to immerse yourself into the language. One has to put on hold your native tongue and only speak and use English. The practise comes more after lessons than during.
Find out more about EC's English Courses in Malta.
Comments
comments