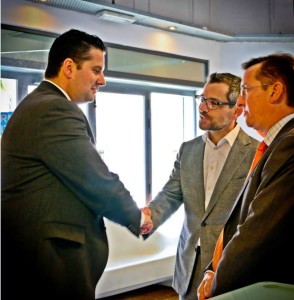 It was a glorious spring day, just the right kind of day for an important visit. EC Malta sparkled in the sunlight, looking brighter than ever. Staff members smiled, as smart and friendly as always.
Dr. Zammit Lewis, Malta's Minister for Tourism arrived, and set out on a tour of the school, meeting staff and viewing classrooms along the way. Andrew Mangion, EC's Executive Chairman, says:
'We have had many Ministers and Prime Ministers come through our doors but it was encouraging to see that this Minister actually requested to have EC Malta as the backdrop for the positive message that he wanted to send….'
The Minister spoke in praise and support of the Language Travel Industry, particularly EC Malta's role in the promotion and cultivation of this growing niche market. EC English Language Centres was chosen for its international presence, reputation, exemplary success, as well as being a source of career opportunities for Maltese employees and foreigners alike.
Dr. Zammit Lewis' last words, 'Thank you, EC, for putting Malta on the radar' were the perfect conclusion to the visit.
Many thanks to all who work hard to make us who we are today, and every day 🙂
Click here to see more photos!
Comments
comments