EC Malta prepares monthly lectures to help students to improve their English skills and especially to increase their vocabulary about interesting topics. In addition to the lecture, students have to take notes and write a summary about the topic, which contributes to improving their writing skills.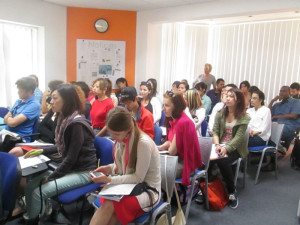 As this island boosts of its ideal conditions for taking amazing pictures, last Wednesday (30th April) the lecture topic Photograph by the lecturer Johan Siggesson – a Professional Wildlife and Nature Photographer. The lecture was very well-received students, "The class was good. I liked the topic, it was very interesting. The instructor is very good, he knows exactly what he is saying, and he used a very simple way to explain the subject", says Alexandra Cardenas – an Academic English Course student. What's more, Alexandra was very pleased about her rapid progress in her ability to understand these lectures, "I never imagined before that I could understand everything, and now I can. I am very happy because it means that I am improving my English!" she added.
During the lecture, Johan shared his experience with students and showed some pictures taken by him. He also gave very useful advices: "A Photographer has to wait for the right moment, and sometimes he has to wait for months or even a year to get a good picture. So, keep going even if you are tired because you never know when a good moment is coming", says Johan.
At the end, the lecturer promoted the Basic Photography Course led by him and some students were interested in joining. "I decided to join the course because my favourite hobby is taking pictures. I am very interested in this topic, so the class was good for me, especially to improve my English skills", says Sakura Fukuda.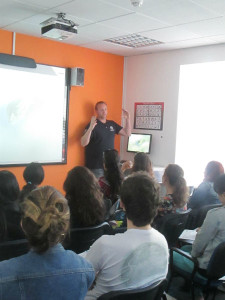 The course will be held on Monday (12thMay), at 3pm, for about 4 hours with breaks in between, costing 25 euro per student. If you are planning to join the activity, don't forget to bring your own camera and register at the main reception!
Click here to have further information about Johan Siggesson, such as his works and contacts.
Comments
comments