By Sakura Fukuda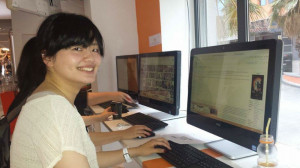 "Some Like it Hot" is a Romance and Comedy film. It was directed by Billy Wilder and Sound tracks are composed by Adolph Deutsh. It starts Marilyn Monroe, Tony Curtis, Jack Lemmon, George Raft, Joe E. Brown and Pat O'Brien. It runs about two hours and it was released on 29th March 1959.
It is set in February 1929 in the city of Chicago. A saxophone player Joe (Tony Curtis) and a double-bass player Jerry (Jack Lemmon) are the best friends and they work as jazz players. One day, they accidentally see "the Saint Valentine's Day Massacre". "Spats" Colombo (George Raft) shoots them, but they run away from Colombo.
After that, they decide to go away and dress like women. They change their names to Josephine and Daphne and take a job with an all-female band headed to Miami. They meet Suger Kane Kowalczyk (Marilyn Monroe) who is a ukulele player and siger, and they get on with her.
Joe becomes enamoured of Suger, he dates her as "Shell Oil Junior". On the other hand, "Daphne" dances with a millionaire, an aging Osgood Fielding III (Joe E. Brown). After that, he proposed to Daphne, and "she" accepts.
At the end of this film, Colombo visits Miami and finds Joe and Jerry, but he is killed. Joe and Jenny decide to run away again, Osgood helps them. Suger follows them and she realizes that Josephine is Joe.
In my opinion, the acting is convinsing and Monroe is very sexy. Jack Lemmon is really funny. The music is romantic and moody. Sometimes it makes me happy. The costumes are little bit old-fashioned, but I like it.
In fact, I don't recommend because it's a little bit old and I think it's long. But, you can find that Marilyn Monroe is really cute and sexy. My heart was stolen by her smile and voice. Joe E. Brown became a favourite actor because of this film. His acting is a little bit over the top but it's really funny."
Find out more about EC's English Courses in Malta.
And Click here to have more information about the "Film Studies", which is part of the Academic Year Programme.
Comments
comments