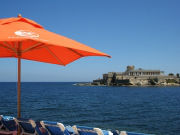 From the 12th of May, you have another perfect activity to add to your schedule: the Beach Club! As the summer approaches it is time to start enjoying the good weather whist studying English in Malta. So what could be better than spending a day at the beach club, enjoying the amazing view of the sea? Even better, as student you are invited from EC Malta to enjoy the place for free.
The Beach Club is located at the Corinthia Marina Hotel, in the lovely St. George's Bay. The opening hours are from 9am to 6pm, so you will be able to relax at the Beach after a long day of studies.
As a student you can join the Beach Club from Monday to Saturday, except on Sundays and Public Holidays. Just remember to bring your student card with a photo and enjoy your time!
And keep your eyes on our Social Programme because the Beach Volleyball is coming soon…
Comments
comments