EC Malta offers you a varied Social Programme with interesting activities, among which there is the Boat Party! Do you know what that looks like?
The Boat Party is an amazing opportunity to enjoy a great atmosphere, amazing sights in the middle of the Mediterranean, whilst watching the sun reflecting on the sea as it descends which makes it even more enjoyable…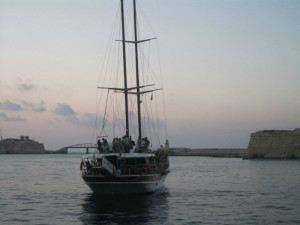 The activity includes the transfer from the school to Sliema – where you will board the boat – food, an open bar, and of course the DJ are all included on board! Does it sound fun for you? Hurry up and buy your tickets for the Boat Party next Friday (16th of May), at the main reception, for just 30 euros. The meeting point is at 6 pm, in front of the school.
Come and experience a rare occasion to have fun with your friends, classmates, flatmates and also enjoy this perfect opportunity to meet new people. Don't forget that joining activities outside of your classroom will help you to improve your English speaking skills!
EC offers many different English Courses in Malta, including IELTS.
Comments
comments