Let's introduce Lizzie Eldridge, the lecturer:
Lizzie is one of the teachers at EC Malta. Originally from Scotland, she has had a theatre passion for the longest time. She started university at 16 years old, in Glasgow, where she studied Sociology and theatre.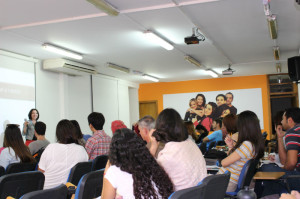 At 22 years old, she started her PhD (The Doctorate of Medicine and of Philosophy) studying a combination of sociology and Theatre. After graduating, she did several jobs such as a Director and acting. Back to Scotland, she decided to teach theatre.
As an introduction to the Lecture, Lizzie asked to talk to a person on the side, and analyse was happening …In doing so, the student realized that people act every day. Indeed, we all are play our own role, in front of an audience, small, or big according to the day, and the occasion.
Lizzie mentioned during her presentation the well-known European theatres, such as:
– The Manoel Theatre, which is the national Maltese theatre. Opened in 1731, it is one of the oldest working theatres in Europe. This theatre is a beautiful place with very traditional decoration.
Also,
– The Russian theatre which had been made popular by Constantin Stanislavski, who introduced a more realistic way of acting.
One of his quote is: "In the language of theatre, to know is synonymous with to feel" .
In addition, opposite to Stanislavski, and to the "Moscow art theatre", German theatre, introduced by Bertolt Brecht , who was more into an non-realistic play. This is because Brecht wanted to show life, as it could be, better than what it actually is.
Brecht's quote: "Art is not a mirror, it is a hammer".
The students were briefed a lot of different rich notions and definitions, among which, the notion of "Duende". It is hard to explain properly "Duende", but It mainly covers the meaning of an inexplicable charming strength, that the toreros used to have. This definition can also be applied to the passion of acting.
According to Lizzie the main ingredients of theatre are:
– Be Verbal
– Be Visual
– Be Physical
– Sound like Poetry (might be different to the way we are speaking).
– Have to have music or sounds
– Have a rhythm
– Play with costume
– Be communicative
– Involve the audience.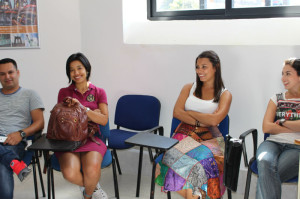 During the lecture, Lizzie explained how the theatre can help to develop our language skills; she said that there is a lot of benefits in acting, for example:
– It extends vocabulary
– It facilitates the experimentations with the language
– It improves the pronunciation, the projection, the articulation, the intonation and the fluency.
– It increases confidence
– It encourages risk taking
– It helps you to think on your feet
After about 45 minutes, she urged the student to do participate in an activity. He students were divided into 5 groups of 10 people, and given a theme. The students then had to improvise around their given theme.
The lecture proved extremely beneficial for the students, as it is a different way of enjoying learning English in Malta.
Comments
comments