The sun was shining and the day was propitious for a lovely tour around Malta. On 14th of May, EC Malta Club 50+ students enthusiastically went for exciting tour around two of Malta's historical sites: the Għar Dalam Cave and Museum and the Hagar Qim Neolithic Temple.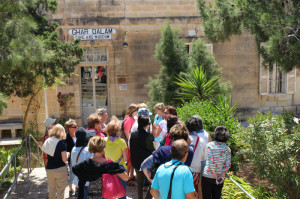 Their first stop was in Malta's oldest prehistoric site, the fantastic Għar Dalam Cave. The site is composed of a cave, a museum and a large beautiful garden that hosts different types of indigenous plants and trees. The place was discovered after a series of excavations in the mid – 19th Century. During the process diverse animal fossil bones, including of dwarf elephants, hippopotami, birds and micro-mammals, were found. There are still visible in the lowest layer of the cave which is more than 500,000 years old!
Guiding the trip was Laura Lupi, who had a lot of knowledge about the place. "The guide is very good and the tour was very interesting, especially the Temple. I also really liked the museum and the flowers and plants in the garden." says Elsbeth Margrith, from Switzerland – Club 50+ in Malta.
The next destination was the incredible Hagar Qim Neolithic Temple, which attracted even more the attention from the students, "My favourite spot was the Temple. It was very interesting for me because I really like history", says Marilene Flores.
The Temple is located in the southern part of the island; about 2 km from the village of Qrendi and a short walk from the Mnajdra temples. The site is 5,000 years old, and is the most important and best-preserved temple in Malta.
Our last stop was the spectacular Blue Grotto. Unfortunately, due to the windy weather, the boats were not working. Thankfully, the area was perfect for a coffee and a chat!
Comments
comments