This week is full of news at EC Malta! It is not only the Academic Calendar that has been changed; we also have a new Free Lesson Schedule, which includes a lot of exciting extras lessons such as the Meet and Greet, Homework Club, Listening Lab and Culture Club.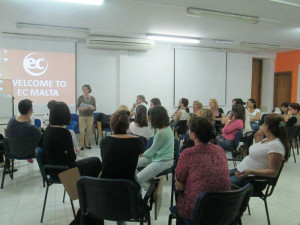 Yesterday, 19th of May, in the afternoon EC held the first Culture Club at the Test Centre. The Club involves important aspects of learning a new language. It is also essential because a language cannot be separated from its culture. The goal of the lesson is to explore various tradition, behaviour and belief of other cultures. In addition, the aim of the activity is to give the arrival students an opportunity to interact with other students from the first day.
The lesson was delivered by Susan Heath, a teacher at EC. During the class, students of mixed nationalities were divided into groups. The main goal was to give them a chance to talk to people from all over the world and discover interesting facts about each culture. Moreover, the students discussed various stereotypes of their country and were able to exchange information in a relaxed environment.
The Culture Club is a part of our Free Lesson Schedule. The lessons will be held every Monday and are available only to new students as a chance for them to start their #ecexperience from their first day!
EC Malta offers many other English Courses, including Academic English.
Comments
comments