Our editorial about EC Malta Social Leaders has almost reached the end. Rounding up our Social Leaders we have introduce Libero Dachille, from Italy. With a lot of experience as a Social Leader and a charismatic personality, this is the second time that Libero is working at EC. Check out our chat with Dachille below, where he answered various questions such as his favourite spot and beach in Malta. At the end of our chat, Libero also gave students some advice about how to enjoy their experience here in Malta as much as possible!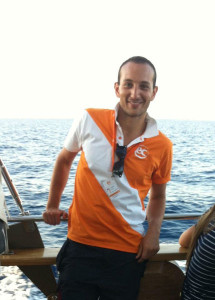 Now that you know a little bit more about our Social Leaders, we hope you are ready to join the activities with us and enjoy your stay in Malta to the max. Our Social Leaders are always present during our extra activities and tours, in the afternoon and evening, ensuring that you have the best time ever on this gorgeous island!
EC Malta offers social activities during the whole week, including free vouchers and discounts for the best clubs in St. Julians! Don't miss this opportunity to meet new people in a different and relaxed environment whilst learning English in Malta!
Why did you decide to apply for this job?
I like to socialize and learn about new cultures. I know the EC environment very well and I think it is a great place to work. I had thd opportunity to do an internship at EC Central with the Marketing Department, and I applied for this position to remain in contact with EC Malta, and share my experiences with students and other leaders. Working with EC is a good way to continue improving English skills whilst gaining the confidence indeed to speak in public, promoting activities.
How would you describe yourself?
I am secure, reliable and patient. I am a hands-on, practical person with the ability to communicate and deal with people of different ages and different cultures. I am always looking for new ways to improve my personality. I like to explore alternative solutions to resolve problems.
In your opinion, what is the most attractive thing about this position?
The most attractive thing about this work is that we can stay in contact with international people. We are in a position of leadership: students believe in our advice. Furthermore, foreign leaders have the possibility to communicate in English, and this aspect is useful to improve our speaking level of English. Another positive aspect is the possibility to work in a multicultural team. I like my colleagues, EC is a great family!
How would you describe your function as a Social Leader?
The principal function is to promote activities for EC students, and attend to student's requests. To be efficient in these roles, a good leader has to be equal with all students and show professionalism and kindness at all times.
What characteristics does a leader have to possess?
A leader has to be responsible and serious. A leader must have the capacity to resolve emergent situations that emerge, and be ready to answer to various questions, to satisfy student's needs. Other characteristics are to be creative, confident, jovial and polite. A leader has to be ready to have different approaches to help people: students have different stories, backgrounds, cultures and English language level. A leader must be able to understand people's needs, and work efficiently, using problem solving skills.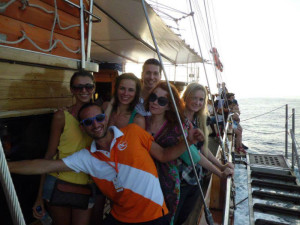 As a leader, what advice would you give to the students?
My mains advice for students is to understand that language travel is something intangible, which has incredible value, so consider it a life experience. Make sure to live this experience, make the most of each moment, each place and person you meet. The students will have an experience that is not just a trip but a dream, something to remember for the rest of their lives.
In addition, I should advise students to improve English, as much as possible. I suggest not to spend too much time with their mother tongue, and do some extra work every day at home, practicing grammar exercises, watching movies in English, reading books, or interacting with other students. Malta is an amazing place; so don't restrict yourself to the normal student life, but discover new places and enjoy making friends.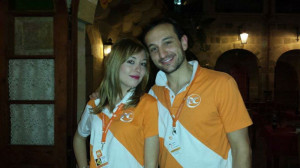 Quick Questions about Malta
Remarkable Song: Una vaina loca
Best restaurant: I monelli
Favourite Food: Lampuki
Place to relax: Sliema seafront
Most beautiful spot: Blue lagoon
Favourite Beach: EC beach club
Why Malta? Because it's crazy like me
Comments
comments