What about enjoying the world cup atmosphere whist learning English in Malta? The world cup started last week and everyone is very enthusiastic to support their teams. The event is one of the most popular internationally and is watched all over the world. So, if you are a loyal fan who would like to support your favourite team, EC Malta has prepared a list with some good options where you can watch the matches around Malta.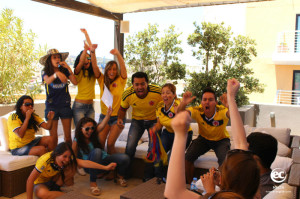 Besides the main pubs and restaurants in Paceville, Malta has set up some locations with big screens across the island together with some other activities which include food stalls and bars. Check out some options and choose what suits you best from the options below.
– Paceville: The place is filled with bars and restaurants transmitting the games. Just make sure that you get there before it is full to enjoy your match.
– Sliema: The entire Sliema promenade is also ready for the world cup. Along the front you will find a wide array of bars and restaurants with screens.
– Spinola Bay: There is a big screen which is transmitting the matches daily. There are also some chairs in front of the screen making it possible to sit while watching the game. Around the area you are also able to find bars and restaurants with screens.
– South End World Cup Village Zabbar: Live matches and a Large LED Screen.
– World Cup Village at the Marsa Shipbuilding: The largest big screen in Malta is located here.
– Beach Club Terrace World Cup Village, Triq il-Qalet, Marsascala: There are 6 large screens with live commentary.
– Malta National Aquarium, Pjazza San Pawl, St. Paul's Bay: The place has a big screen and also a Children's Play Area.
– Manoel Island, Gzira soccer ground: Entertainment, games and food stalls.
– Qormi FIFA World Cup Village, near St. Sebastion Parish Church: The place offers big screens and entertainment areas.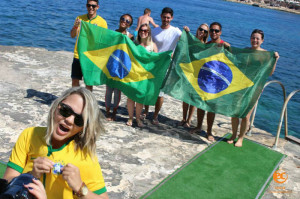 EC Malta is one of the English Language School in Malta, which offers courses including IELTS and TOEFL exams preparations.
Font: http://www.eve.com.mt/2014/06/12/world-cup-villages-around-malta/
Comments
comments