The village of Mdina is a fortified hill-top urban settlement located in the very heart of the Maltese Islands. In existence since the Bronze Age, Mdina has acted as the administrative and political capital of the Maltese Islands for almost two millennia. After 1530 Mdina stopped acting as the political centre of the Maltese Islands. The city is characterised by surrounding moats, bastions, artillery platforms and extensive outworks.
What to see:
Some of the most interesting places to visit once you have entered this magnificent town include the Cathedral of St Pauls and the Bastion Square with its extensive views of Malta.
St. Paul's Cathedral is a fine structure, designed by architect Lorenzo Gafa. Its façade impresses visitors as they emerge from Mdina's narrow streets. The cathedral's magnificent dome, with red-and-white stripes, dominates the skyline. The dome's interior has been decorated by a succession of painters; today's decoration dates back to 1950s.
The lavish interior of the cathedral is similar in many ways to the Cathedral of St. John in Valetta. There are great works by the Calabrian artist and Knight MattiaPreti and a marble-inlaid floor with tombstones carrying the coats of arms and inscriptions of the bishops of Mdina and other members of the cathedral chapter.
The next step would be to visit the Bastion Square where you can see extensive breath-taking views of the surrounding villages and afar. Passing through the ancient narrow streets and alleyways, there are several souvenir shops you can stop at.
Other Places of Interest:
Mdina Dungeons – A visit to the old dungeons where scenes of torture and imprisonment are depicted by life size figures in period costume. Located just inside Mdina's Main Gate.
Medieval Times –A medieval walk through experience through 15 scenes enhanced by the use of electronic wizardry, in light, sound and smell. The exhibition is situated in a beautiful baroque palace, the Palazzo Costanzo built in the 17th century.
Mdina Experience – Audio Visual spectacular of 3000 years of Malta's history lasting 25 minutes.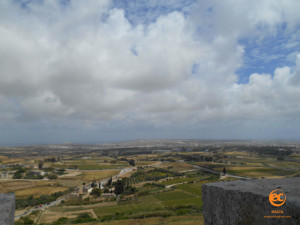 Study English in Malta with EC English Language Centres!
Comments
comments