Written by student Ji Haeng Jang from Korea
Malta is unfamiliar to Koreans, because Malta is not a well-known country in Korea. So many Korean students who want to study English abroad may miss out on Malta, which I believe is the best place to study English. Instead of going to Malta, they usually go to Australia, USA or Canada.  However, in my opinion they are making a mistake. Of course, not in every case, there are many Koreans so that they couldn't learn English efficiently. Now, I will explain it is better to study English in Malta.
Firstly, in Malta, especially in EC, there are many students from various countries. So you can meet new people from all around the world (at school or on activities) and luckily for us there are not many Asians. Of course, you will find some Japanese and Korean students here, but there is a good nationality mix so the proportion of Asian students is lower than other countries. As a result, you do not have to worry about learning English in EC.
Secondly, the accommodation system is so nice, because EC do not match roommates from the same country. So you will speak in English throughout your daily life until you go to bed. Also, you can share your culture with your roommate or flatmate, and this is a great way to practice your English. Imagine if you want to go to other countries, and your flatmates have visited those countries or possibly live there – they can give you great travel advice!
Lastly, there are many free events and parties organised by the school and going out in the evening is much cheaper than in Korea! According to one study, Koreans are the best  drinkers in the world and here the drinks are almost twice as cheap so it is also a good opportunity to enjoy a few drinks with your new foreign friends and practise more English!
As I said above, there are many attractive things which make EC the best place to study English in Malta not only for Korean and Asian students but for anyone from any part of the world. If you are hesitant about coming to EC Malta before you read this, I hope that this will change your mind. Do not be hesitant anymore! Come to Malta! Come to EC! Come and enjoy your studying! EC is always ready to welcome you!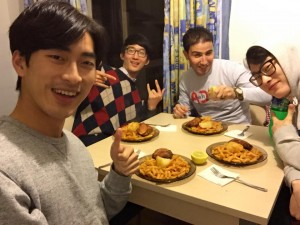 Comments
comments