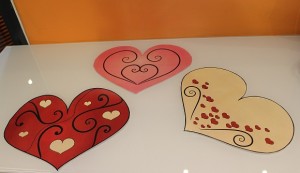 The most romantic day of the year for every couple is soon here! The 14th February, Saint Valentine's Day, this year will be on a Saturday. But don't forget that even if you don't have a special someone to celebrate with don't be sad. Think of this day as a one you can celebrate with your other single friends.
For those of you that may not have planned anything, here are some fun things to do:
• You can go to Valletta and stroll through the gardens, The Upper Barracca Gardens is a very romantic spot. There you will have the best view of the Grand Harbour and the three cities opposite.
• You and your loved one, or friends, can actually travel to the Three Cities (Birgu, Isla and Bormla). You can even take a gondola from the Grand Harbour. This will give you one of the best views of the fortifications that surround the harbour.
• A popular attraction in Valletta is Casa Rocca Piccola on Republic Street. The house is owned by one of the oldest families in Malta, and will give you a sneak peek into the lives of the nobles of Malta. You can go on a champagne tour that start at 19.00 on Friday and you will get to meet the Marquis de Piro. He will tell you about the house and the collections you will find inside.
• If you don't want to spend your day in the capital of the island, then you can take a bus to the old capital of the island, Mdina, or the silent city as it is called by the locals. It will offer incredible views of Malta because the city stands on one of the highest points of the island.
• The Manoel Theatre is one of the oldest in Europe's history. Here you can enjoy a romantic evening out and listen to baroque music or a play.
For more information about English Courses in Malta click on the link.
Comments
comments