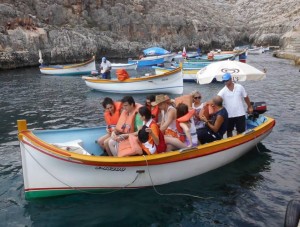 If you have ever been to Marsaxlokk you may have seen the colourful boats in the harbour. These boats are called Luzzu and are believed to be from the Phoenicia times. They have bright colours, a double-ended hull and in the front they have a pair of eyes. The bright colours are usually red, blue, green and yellow and the eyes are rumoured to be those of Horus or Osiris, but there is no way to tell if this rumour is true. The eyes are supposed to protect the fishermen on the boat from harm.
Today most of the Luzzu boats are fuelled by diesel engines or motors but when these modern contraptions didn't exist the boats used sails. The Luzzu boat design still exists and are used today because they are sturdy and reliable even when the weather is bad. They are the primary fishing boats and some have even been converted into passenger boats for tourists.
The word 'Luzzu' comes from the Sicilian word Guzzu and that word comes from the Italian word guzzo, both words for fishing boat and transport vessel in Italy and Sicily. The reason that the Sicilian word 'Guzzu' became 'Luzzu' in Maltese is because the first consonant of the word guzzu (the g) is weak and it is commonly dropped if the word's second letter o or u, this is common in the eastern areas of Sicily, the part that is the closest to Malta. The most common place to find the Luzzu is Marsaxlokk but you can also find them in Wied iz-Zurrieq, Marsascala, St Paul's Bay and usually in other seaside villages around Malta. They are known unofficially as a symbol of Malta along with the Dgħajsa which is a water taxi boat.
You can now find out more about the "Luzzu" by booking a ticket to Marsaxlokk and Blue Grotto while following one of our English Courses in Malta.
Comments
comments