Have you always had a penchant for exploring new territories? Have you had a longtime dream of pursuing further education abroad? Have these dreams now been kept hidden in your drawer for a tad too long? In that case, you ought to first find the university which really and truly tickles your fancy, then pack your luggage and make your way there. Do not think too much about it — that will result in fretting and, possibly, your dream not seeing the light of day.
There is only just one tiny ugly problem, however. No university in an English-speaking country, no to say any university, will be too willing to send you that blessed acceptance letter unless you are in possession of a piece of paper which can certify your level of English.
You may be an advanced speaker indeed. You may be more accurate than most native speakers. Yet, without something, anything, that really testifies to what you are claiming, your word is worth as much as your neighbour's. It is no wonder the Latins lived by the 'verba volant, scripta manent' motto, after all.
The solution is an easy one. IELTS will come to your rescue.
The IELTS exam serves exactly that function. It is an English exam taken by non-native speakers to have their command of English ascertained so as to be able to either seek higher education in another country or, even, to relocate to somewhere else.
EC Malta runs various IELTS classes all throughout the year. In fact, it constantly proves to be one of the most requested courses, so much so that the number of students enrolling has been increasing ever so steadily.
At our school, we have teachers who are synonymous with the various courses they normally teach. As a matter of fact, some of those teaching the IELTS course have now been doing so since its inception. Indeed, on account of it having become such a popular requirement, others have more recently had to join the so-called IELTS group. What does this mean?
First and foremost, it means that those intent on achieving a better-than-good result are being taught by people who have seen the structure undergo change time and time again, therefore being fully acquainted with the ins and outs of the exam. So as to be always at the forefront, EC Malta, in fact, also insists on workshops being held among these teachers, whereby sharing techniques and improving on what is already there is of paramount importance.
Were that not enough, these teachers are exceptionally keen on making sure that their students are awarded the highest grade possible, which is why they always go the extra mile in order to ensure that the students are on top of things.
What is it about their technique that seems to be working ever so brilliantly? Many a student would tell you that although the skills are always seen to and thus improved upon, what makes EC Malta's IELTS classes all the more effective is the fact that they are incredibly practical. By this I mean that the students are constantly asked to revise the strategy learnt by being put to the test when asked to work out authentic IELTS exam papers. In this way, the students manage to go from strength to strength in a rather short span of time — not only does this become apparent when reading feedback given by the students themselves, but also when they actually email to tell us: "Hello Mr X, I simply wanted to let you know that I managed to get a band 7.5" Now tell me, what's more satisfying than that? In short, that message means that this student will now restructure their life according to their exact wishes!
Taking all that into consideration, if you have been thinking of studying abroad or leaving your country for good, then you are left with no alternative but to come here and join the IELTS Malta course!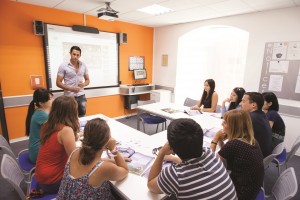 Comments
comments