"We decided to start hosting students in 2007 and we never regretted it for a moment. We learn things about other cultures that you can never learn from books or the internet. We have made friends from all over the world. They become part of the family, so much that I can remember all their names, and that's over 200 of them! We eat together, talk about our day and many other things. I love being surrounded by young people, they make me feel young! Our biggest satisfaction is when they tell us that they don't want to go back home but that they want to stay with us here in Malta. Then we know that we did our job well. I say we, not I, because it is a collective effort by all the family. This is an email sent to me by the mother of one of the students. For us this is the best "certificate" anyone can give us:
Hello Maria
I'm writing again to thank for the three months that Mariana was in your home. She told me amazing things about Malta and your family. We ask God to give a lovely and kind "mother" as you in her life and our request was granted, our thank you to all of you for taking care of our little angel.
Whenever you want to come to our country, visit us, our house will be always available.
Thank you so much! 
Mara, Leonil & Mariana"
~ This Testimonial was written by Homestay Malta Family Maria Mizzi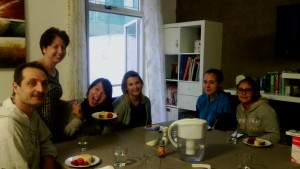 Comments
comments