If you really want to rapidly improve your English while studying in Malta, then it goes without saying that simply being in class on a daily basis is not enough.
Yes, in class you learn the rules and you get the practice, but once you're out of the classroom you're on your own. Your teacher won't be around to kindly remind you that you're in Malta with the specific purpose of bettering your grasp of English and, most certainly, not to practise your mother tongue a tad further.
To ensure that you stay on track, Homestay Malta will do the trick!
In the Maltese people's houses, you won't be able to speak your own language to get what you want for the simple reason that they probably wouldn't comprehend anything of that. So that's yet another reason to take advantage of this fabulous opportunity and learn more and more English. After all, 'survival English' is best learned in the real world.
This means that after having been out and about with your newly made friends, you can easily go 'home' to a newly acquired family who are just as eager to get to know you better!
Were that not enough, McDonald's and Burger King will in that way be less tempting seeing as your 'Host Mum' or 'Host Dad' would be cooking you dinner. We all know that once we're away from home, from our weirdly equipped kitchen, we don't want to waste time cooking because there's a million and one thing we want to see while in a different country. And why not? What are the chances of another holiday that same year?
…and well, let's face it, the beauty of a meal shared with a family that, for a while there, becomes your own is second to none.
Though already tempting, these are just a few reasons as to why homestays in Malta have become increasingly popular among those who really seek to truly improve their language skills and live comfortably while in Malta!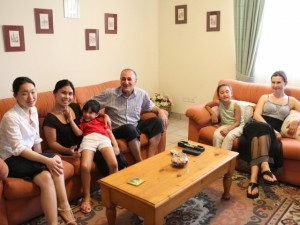 Comments
comments