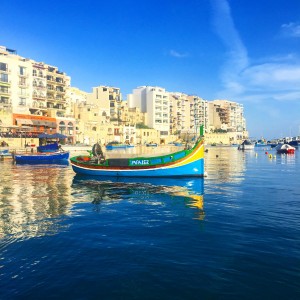 Internship at EC Malta English Language School
Last week I started my internship at EC Malta English Language School. To come all the way from Sweden to an English speaking country and having to take care of everything alone intimidated me in the beginning. I was questioning myself if this really was the right choice. Back home everything was being served: dinner, a clean room, laundry and so on. Even though I was nervous I decided to take the opportunity and I can honestly say that this has so far been one of the best choices in my life. I have gained so much from this experience, first of all I've improved my English enormously in such a short period of time due to the fact that I'm constantly speaking with the locals and at the same time I'm surrounded by the language spoken by native English speakers. English is not my first language but I got so used to using it that I now speak English even with the other Swedish interns.
At the school during your workhours you meet students from all over the world, all of them speaking different levels of English but with one thing in common; the passion to learn. As soon as I stepped inside the school I understood that this school has an unusual relationship with their students. Even though the school is full of students the staff and the teachers develop a friendship with each and every one. Here you really feel that you're being heard and seen. My colleagues have now become my friends and after-work is something we all look forward to. You will notice quickly that activities are a big part of EC, every single day there is something new to do or to try.
Malta as a country is phenomenal even in the winter. We left snow and -12 degrease back home in Gothenburg and landed in sunny Hal Luqa. We were greeted at the airport by an EC representative who took us back to our apartment in Valley View. The name of the accommodation says it all, the view over the valley in the mornings are stunning. Waking up in the morning is not a hustle anymore, sitting on the big balcony with a cup of coffee feeling the warm sun really gets you going. I had the opportunity to live with students from all over the world. You learn so much about other cultures when your roommates are Colombian, Brazilian, Hungarian and so on. For example I'm never drinking anything other than Colombian coffee and pastizzi which is a common food in Malta is now my favorite midday snack.
The most important thing that I've learned during these first weeks as an intern is that as soon as you push yourself out of your comfort zone you gain so much. Being an intern at EC Malta is something I most definitely recommend to anyone who's considering it, you won't regret it that I promise you. I can't wait to give you more information about my stay here at EC Malta.
Comments
comments