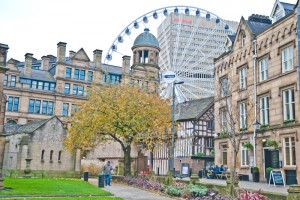 The amount of students who want to learn English in Manchester is growing! That's probably because the city encompasses all the best that the UK has to offer; entertainment, culture, an amazing retail and leisure sector and of course football.
The dynamic and forward-thinking city already boasts several prestigious educational institutions including the highly-ranked University of Manchester, and continually reinvents itself with pioneering achievements in business, creativity and science.
Manchester's rich cultural heritage, vibrant music scene, and buzzing nightlife make the city a truly fantastic place to live, work and learn English. It is also the gateway to breath-taking attractions of the North West such as the Lake District, the Peak District and historic Chester.
In keeping with all other EC English schools, EC Manchester is located in the very heart of the city centre. Just one minute's walk from Manchester Piccadilly train station, it will house nine comfortable classrooms, a large reception area and student lounge, and a well-stocked library. It will be fully equipped with state-of-the-art facilities, including interactive whiteboards, 16 computers and eight tablets.
Our 'boutique' English school in Manchester is also styled with a fresh new look, with custom-built interior design features inspired by the cultural identity of one of the UK's fastest growing cities.
Established in 1991 with our first school in Malta, we now operate schools in 18 of the most desirable locations in major English-speaking destinations, including London Euston; Times Square, New York; and South Beach, Miami.
We look forward to welcoming you to Manchester in Monday 12th May.
Contact us for more information about taking an English course in Manchester.
Comments
comments