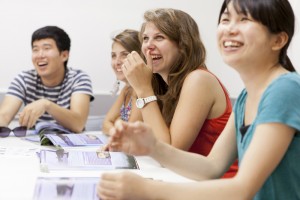 With the opening of our Manchester school practically round the corner (how exciting!) and all preparations in full swing, we just can't wait to welcome you all to our stylish new classrooms.
Talking about classrooms… have you taken a look at our English courses in Manchester?
The choice is yours. If you're after a global career in an international workplace, then we suggest English for Work, and if you want an advantage in your chosen career or education, then there's the Academic Semester Year/Programme. If you want to study and prepare for internationally-recognised Cambridge, IELTS, TOEFL and TOEIC exams, our Exam Preparation courses will teach you the specific skills you need to get excellent results.
You can also go for personalised, private English lessons with one of our teachers. It will be your chance to get all the flexibility and attention you need, focus on your weak areas and follow your very own timetable!
When it comes to learning English at EC, always remember the following top 3 things:
We guarantee your English will improve
Our courses are high-quality, and taught by qualified and friendly teachers
You will have experiences you will never forget
We're looking forward to opening our classroom doors to our first group of students in Manchester. Will you be there?
Contact us for more information.
Comments
comments