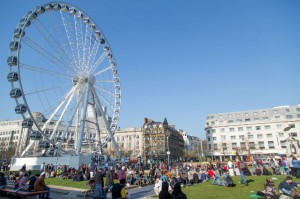 Manchester is considered England's second city and the 'Capital of the North.' Here's why more and more students are choosing to learn English in Manchester.
It's a city of education
Central Manchester is home to two of the largest universities in the UK. Being a university city, there are plenty of fun, interesting and cheap places for you to have fun and eat. The city has a young and exciting atmosphere because of its large student body.
It's a city of innovation
What happens in the UK happens in Manchester first. From being the birthplace of the industrial revolution to its leading way in music, art and design, Manchester is a place where there is always new and exciting happening.
It's an entertainment hot-spot
Apart from its world-famous football clubs, Manchester has an amazing live music scene, great nightlife, and because it is so multicultural, cuisine from all over the world.
It's easy to get to
Manchester Airport is the largest airport in the UK outside of London and is amongst the 50 largest airports in the world.
It's convenient
Manchester city centre's attractions are easily reached on foot, and walking provides the perfect opportunity to take in the architecture of the city.
At EC Manchester we offer English language courses to students from all over the world. Contact us today for more information on our school, how you can improve your English at EC and have experiences you will never forget.
Comments
comments