Juan Jose, or like everyone knows him at the school JJ left EC Manchester last week to study a few weeks in EC Bristol.
Here you can find his experience with us:
"My experience with EC Manchester was absolutely great, I enjoyed a lot. At first I was expecting something completely different, like a normal school and normal clases, but it was not like that…
The classes are very didactic, the way they teach is awesome, so you absolutely cannot be bored, you are constantly participating in funny and useful activities.
Even outside the classrooms you are learning, by talking with people from all around the world and knowing their completely different cultures. You will be always treat really nice by warm and kind people, classmates, teachers, staff and directors.
Even if you are homesick, depressed or you have any kind of problems they will help you with it.
After two months and a half, I am proud to say that I improved a lot and that I feel way better than I was before, so that is why I absolutely recommend EC languages schools, and hopefully Manchester, for everyone who wants to learn english in a funny, fast and easy way."
Thanks for your nice words, and best of luck in the future JJ!
In the picture, our students saying goodbye to JJ!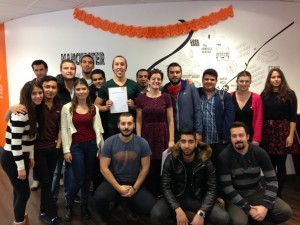 Comments
comments