Last week we had a group of Russian students in EC Manchester, and they had the opportunity to enjoy a full experience of classes and activities in the city of Manchester.
Before their departure, Natalya, the leader of the group wanted to share a few words about their experience here.
"I chose this destinantion because I wanted to visit Manchester and Liverpool and to improve my English living in a English family.
We learn a lot of different information: vocabulary in topics: films, Music, Art, and practiced grammar, writing, reading, listening, and of course a lot of speaking!. John, our teacher was fabulous!!! He could make everybody involve in a class activity. He made our lessons interesting and unforgetteable!!
I would reccomend EC to all my friend and mates! This school is worth visiting! My family was ok (but my room was small)
The weather was fantastic! Activities were incredible!
Everything was very good, specially the staff (Mleanie, Pablo, Michael, John)!!
We loved this school "
Thanks very much for your works Natalya. We are very happy that you had a great time here. It was very nice having you around!
See you soon!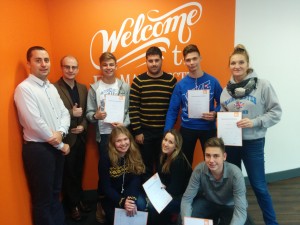 Comments
comments