Zehra and Yusuf is a couple comes from Istanbul in Turkey. They wanted to live EC Experience together to do English course in Manchester for 6 months. Zehra wanted to share their amazing experience with us :
"The school is awesome! We are extremely delighted that EC Manchester was part of our life! İt's worth not only for the well-established educational system, highly quilified and experienced teachers, but also for the supportive and friendly staff, quite modern classrooms and for the wide range of facilities that the school organses, especially Pizza days:) EC Manchester provides not only language experience, but also unforgetabble lifetime cultural exchange! You can't feel yourself homesick, all the staff, especially Sarah, takes care to make you feel as much as possible relaxed, comfortable as a member of the big family of EC Manchester.
Some comments about the staff:
First of all, we would like to thank you to Sarah! She was extremely supportive all the time. Being a good listener, she reassured us a lot and managed to find solutions to all our concerns. Thank you Sarah for all your help!
Secondly, we would like to share some good things about our teachers:
Jen – she knows exactly what the students need, how they want to finish their sentences, and generally, how to encourage them to take part in the lessons in order to improve themselves. Being a good observer of her students in the class, she can guess their needs, feelings, weaknesses or strenghts and tries to motivate them. Thank you Jen!
John – he is just talented! He has funny and friendly teaching method which he applies to all his classes.Starting everytime with small talks, he made us feel good, relaxed and ready for the next lesson with impatience. Thank you John for your positive attitude towards us! As you can say, you are really "Good stuff" 🙂
Darron – he is absolutely professionalist! With his calm, serious manner and deep experience, he taught us a lot and made us feel more self-confident! Thank you Darron for your patience and for your successful efforts to bring out the best of us and to make us believe that we CAN and do it well! We really respect you!
İrina – we really admire her! We can't imagine ourselves being originally from Russia and teaching English for foreigners in England! Her job is really difficult, but she is passionate and doing very well! Thank you İrina for being such a good person and teacher!
Mike and Sameh – unfortunately, they taught us for a short time, but we have very positive impressions about them.
Mike – he is very friendly and has creative teaching style. He organises his classes like a game, which involves all the students. Provoking their competitiveness, he makes them be careful while he is teaching the new lesson in order someone of the students to be the winner of the game. This approach helps students to memorise the new information immediately in the classroom.
Sameh – being quite modern Arabic native speaker, we really admire her, like İrina, for teaching English very well! Her classes are more conversational and she gives chance for everybody to share their point of view.
And last, but not least – thank you Melanie and Pablo! You were so friendly, enjoyable and supportive all the time!
To conclude, EC Manchester was and will be unforgetabble experience for us. Manchester, being the capital of the North England, offers wide range of facilities for every age group and every taste – museums, theaters, stadiums, restaurants and intense nightlife. We highly reccommend living in Manchester and studying at EC Manchester! Manchester is a vibrant city, but not overcrowded like London and the living standart is more convinient and accessable.
We hope to see you soon in the near future when we have a gap year again! We'll definitely go back there if we have chance!
Best regards,
Zehra Halil"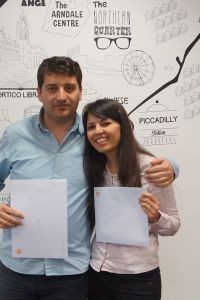 Comments
comments